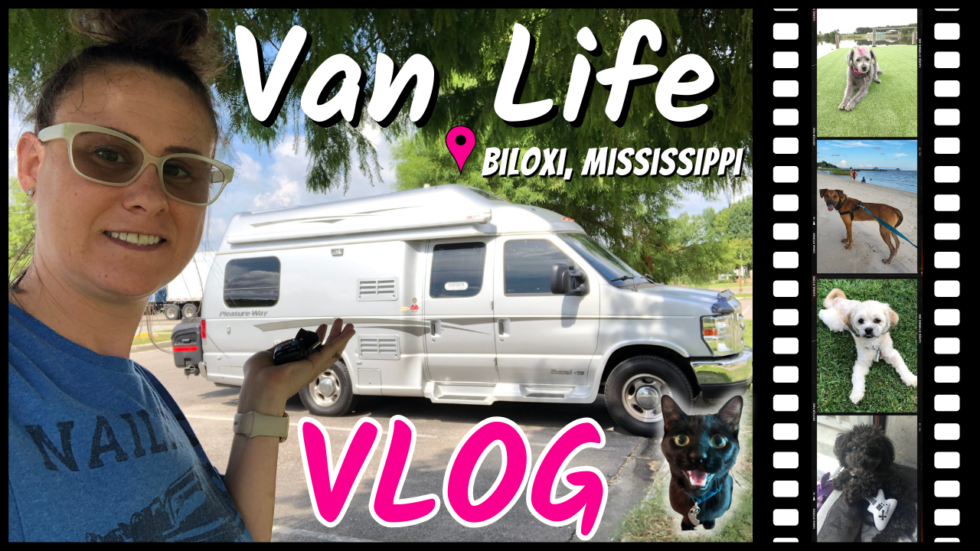 VAN LIFE with a DOG day in the life VLOG
This is the Last Day In The Life Vlog or "Life of a Van Life Vlogger" as I've been bringing you along on this RV Living road trip and showing you How To Van Life sharing behind the scenes of how we are "Van Living" exploring Biloxi, MS enjoying Van Life With Dogs! This VanLife Vlog, is another Day In The Life Of A Van Dog (& Cat) in our 2012 Pleasure Way Excel-TS Ford Econoline Luxury Camper Van!
So if you're Ever wondered What It's Really Like Living In A Van? A.k.a. Vanning! Better yet, thinking about exploring Van Life With A Dog? Maybe Van Life With Cats? Or just Curious what a random day in my van life looks like? Then this van life vlog about A Day In The Life Living In A Van With Dogs and Cats — or should I say with PAWS is for you!
BUT I'm Not like many Van Lifers. In the past, I've talked a lot about my SOLO Female Van Life and journey as a Digital Nomad, but today you'll see a little sneak peak BTS of Me and a glimpse of my boo (just a Van Life Vlog Couple driving through…) Plus VanLife With Dogs, Cats & LOTS of FURRY PAWS too! Because I'm NOT always alone when I'm RV Living!
Watch as we try to find Van Parking for "Stealth Camping" vs Plugging up at one of the local RV Parks. Looking for Pet Friendly Beaches and places to play in Biloxi, Mississippi vs Ocean Springs! Casino hopping from the Imperial Palace to the Scarlet Pearl in D'iberville (both have RV Parking)
Plus RV Life can leave you Struggling to shower or should I say SHAVE, so I was thankful we stopped by BucEe's on the way out of Alabama and got a Buc-ees BEAVER Bathing Suit even though it wasn't that flattering! But Bucees did save the day along with a few other products I cannot live without like wet wipes and my new wet/dry razor from Walmart! Also, We took Showers at Planet Fitness, then stopped by Checkers.
BTW I'm a foodie and being close to the ocean I was looking for some Hot Peel & Eat Shrimp With Old Bay Seasoning + Cocktail Sauce and NO Butter! I was able to find some great food at the IP and some local spots including plant based healthy food options at Makin Groceries in Biloxi!
[PLAYLIST] WATCH all my Van Life Vlogs!
🚌 Learn about RV Life @RVersity
---
FEATURED IN THIS VLOG:
BIRDIES DOGHOUSE
🐶 Learn More about Krypto & the dogs of Birdies DogHouse visit https://birdiesdoghouse.com/
Follow them on IG:
NVington
Van Life Vlog Indian: @NVington
Zenni (Eye wear)
My Sunglasses are Glow-in-the-Dark Rectangle Glasses SKU 2029850 by Zenni Optical
My Pleasure Way Van
My Van is a 2012 Pleasure Way Excel-TS Ford Econoline Luxury Camper Van!
RV TOURS
Pitstops & Places:
Not Affiliated stopped at a great Plant Based, Healthy Food Restaurant in Biloxi, MS called Makin Groceries because it was easy to find parking for the Van and we were able to watch the dogs.
In case you were wondering I was filming most of this @ScarletPearlCasino in Biloxi! Some other places mentioned or that made cameos in this video include: @ipbiloxi, @bucees, @checkersrallys, @planetfitness, and @Walmart!
---
ABOUT ME:
If we haven't officially met, Hey I'm Blogging Brandi An EX-Corporate Kool-Aid Drinker, born to be Creator, Female Digital Nomad & Entrepreneur who LOVES RV Living! (oh and Sharing My Advice On YouTube!) Plus, I'm the creator of RVersity, my university for RVers & the name of my other YouTube channel! I've also been a licensed cosmetologist for over 17+ years and Graduated From College as a Finance Major… But I decided to quit my job, sell everything to start my own business (and if you've seen my story then ya know why I live in an RV aka how I ended up becoming a digital nomad or should I say a "nomadic entrepreneur") because sometimes I'm RVing or you might find me in a hotel, Airbnb, Van Life — I just love traveling!
However, it wasn't until I told my story that I understood why God was trying to use me!!!! So, if you know my story and can relate I've Created a space to connect on a deeper level with my subscribers, followers and fans! It's called my "Blogging Brandi Fan Club!" and Totally FREE to JOIN!
🎥 WATCH MY STORY: How I decided to Become A Solo Female Digital Nomad (NOT always RV Living) Entrepreneur!
---
🙋‍♀️ Follow me on Social @BloggingBrandi via Facebook, Instagram, LinkedIn, Twitter, Pinterest, TikTok, and don't forget to SUBSCRIBE on YouTube!
---
Affiliate Disclaimer: Note this description contains affiliate links that allow you to find the items mentioned in this video and support the channel at no cost to you. While this channel may earn minimal sums when the viewer uses the links, the viewer is in no way obligated to use these links. Thank you for your support!
---
VLOGS