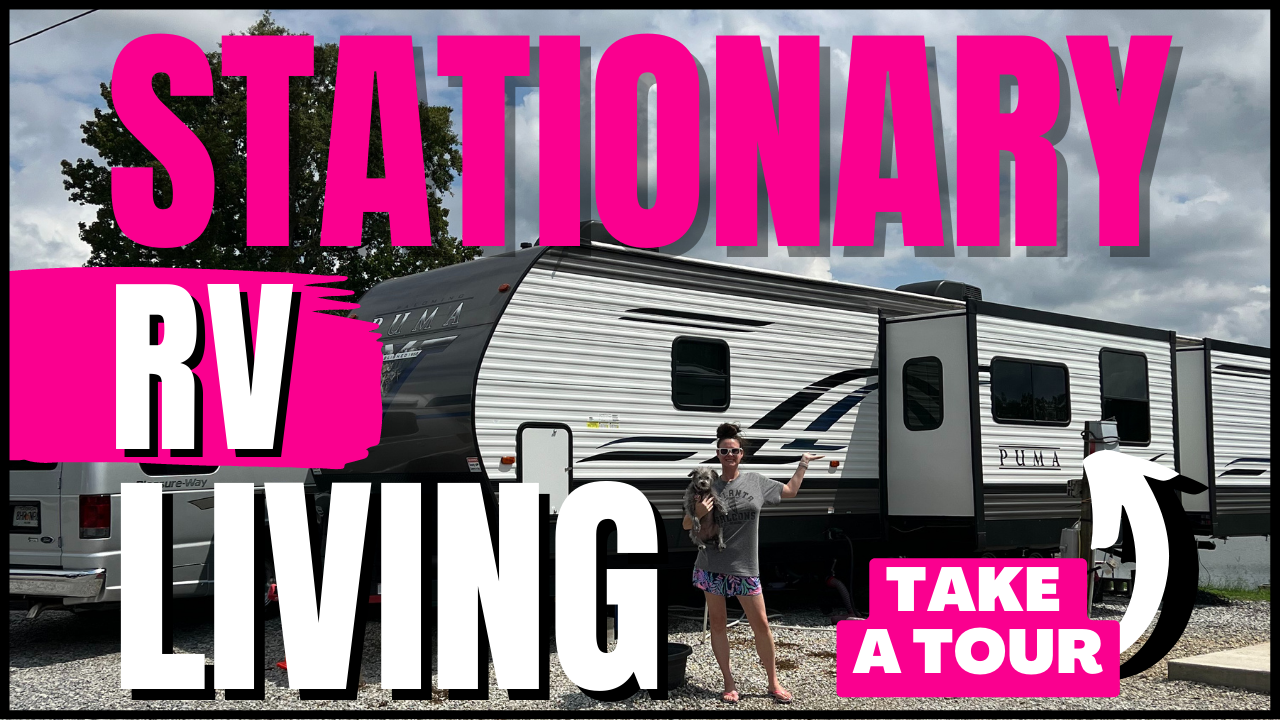 My Full Time Stationary RV Living Tour Behind The Scenes As A Female Digital Nomad
This is My NEW Full Time Stationary RV Living Tour [Behind The Scenes As a Female Digital Nomad & RV Living Entrepreneur] Keep in mind that I live stationary in an RV park, meaning I DO NOT MOVE MY RV! I live stationary in my RV! But I didn't plan on living stationary in an RV. Stationary RV Living Full Time came as a blessing to me! In fact, if I could go back to my very first RV I wish I would have thought about living in a travel trailer full-time stationary! And YES stationary full time rv life has its pros and cons, but there is a reason I LOVE full time rv living stationary! I promise Once you view my new setup you'll see!
When I started out I was a Solo Female Digital Nomad RV Living Entrepreneur trying to travel, run my business and make money online (or on the road should I say). However, after traveling vs living full time stationary in an RV for 3 full years, I've Learned that Living in an RV Full Time Stationary may have its ups and downs but it allows me to run my online business without having to be constantly moving my office! Plus, stationary RVing or RV Park Living is like having a tiny house with your own little yard (as I do for my dogs)!
So if you're wanting to be a nomadic entrepreneur or going to be starting out as a Solo Female RV Living and don't want to be constantly moving your RV then you might want to consider starting out full time living in an RV park first! Better known as what I like to call being a Stationary RV Living digital nomad! Which is why TODAY I'm sharing BTS of my full time stationary rv life! 
This is my stationary RV setup (in a Puma Palomino 32BHQS) while Living in an RV Park Full Time! Watch and enjoy my stationary RV tour! Don't forget to drop a comment below to let me know your questions and favorite parts of my new full time stationary rv living setup! 
---
ABOUT ME:
If we haven't officially met, Hi I'm Blogging Brandi an EX-Corp Kool-Aid Drinker, born to be Creator, Digital Nomad & Female RV Entrepreneur! (aka Female Digital Nomad Entrepreneur or Nomadic Entrepreneur) Because Sometimes I'm RV Living and Sometimes I'm NOT!
Now, I help other creators who are tired of feeling stuck, unaccomplished, and even maybe an outcast from the rest of the world's idea of "status quo" become confident in reaching their financial goals and gaining their independence  — by following in my footsteps learning how to communicate, use their story to build their personal brand, and share the skills they have buried inside of them  to start their own online business making money online as a digital nomad while RV Living — ya know, instead of a working a "normal 9–5 or shift job" 😉
🎓 [READY TO APPLY & WORK WITH ME]
Apply & Schedule a FREE consultation to see if we're a good fit to work together (Spots limited) >> CLICK HERE <<
🗣️ VIEW MY CLIENT TESTIMONIALS:
https://bloggingbrandi.com/testimonials/
---
WATCH MY LATEST VIDEOS:
---
👩‍💻 [ TAKE MY FREE MASTERCLASS – 45min online training!]
Learn My Proven 4-Step "Full Time RV Life Formula" To Get Started Fast & Easy! >> REGISTER HERE <<
---
Here is the TRANSCRIPT from the video: My Full Time Stationary RV Living Tour Behind The Scenes As A Female Digital Nomad
Video Transcript:
O m g <laugh>, I am a little bit nervous to give you a tour of this stationary RV living setup and what I like to call my female digital nomad and entrepreneur pad. So this is kind of like, I guess you would call it a mobile office, but it's really not mobile. This is what used to be my motor home, which is now the travel trailer. So this is the unofficial tour of my full-time stationary RV living setup, which means this trailer doesn't move, but this is a 2021 Puma Palomino 32BHQS stands for Bunkhouses Queen. So this is actually a two bedroom rv. Um, so I'm gonna go ahead and warn you that we've had this trailer for almost a year now. Um, but we've done a lot of renovations and then we bought the van. So I'm gonna be giving you a tour of the van.
Next. I gave you a tour of what it actually used to look like in this same exact setup, but we switched out and sold the motor home and got this travel trailer. So, um, I'm gonna show you the outside. This is my unofficial tour. We have water leaks, we have sewer leaks, we have had electrical problems, um, and so much going on in here. So do not judge me. This is behind the scenes. I'm gonna give a more official tour, um, of the new setup once I get it. But if you haven't subscribed, please, please, please subscribe to this channel. I'm blogging Brandi if we haven't officially met. Um, and I'm gonna give a more official tour later on, probably on my rversity channel. But I will put links to the tour that I gave before of my stationary RV living setup with my motor home and, um, some of the pros and cons of motor home living stationary and stationary RV living that I figured out.
But I have a couple people here that wanna help us out with the tour. Um, this is Roland right here, And Birdie. And so, again, do not judge me this trailer is dirty. Um, one because it's the way we got it and two, um, because we've been traveling a lot. And so I figured if I don't give you this tour now, I'm never gonna give it to you. But, um, if you're one of my true true fans, I kind of gave my fans a little bit of this tour already. And if you haven't joined my fan club, there's a link below this video in the description to join my fan club. Um, so you get to see these things before anyone else. Okay? So I'm gonna be kind of quiet outside because I don't want my neighbors to know that I'm recording them. So, um, let's see if we can do this quietly. Okay. Okay, here we go.
So Birdie
And
Roland go right here into their exciting backyard. So they have their backyard right here. I was trying to make sure my neighbors weren't out here, but here's the lake. And also, I'm not telling you where we're at unless you can figure it out, but I'm not telling you that because I don't want creepers coming up to my house. This is not an RV park tour. This is a stationary RV living tour, um, of my full-time setup. So this trailer doesn't move, we never move it. It's actually too heavy to move and we don't even have a vehicle to move it. So we had to have it towed here. Um, but you can see this is the lake. And so we have our little area that we've set up and so we've put out these little grass pads and I will tell you every RV park is different.
Not all of 'em let you do this, okay? But we put our little, um, setup out here so these actually we can store stuff in them. And then we also have, um, our cabinets right here so we can put stuff in our cabinets and keep stuff in here. And then we have my lovely smart car here, smart car that, um, I still have my smart car, I still have my smart car, but I have my white smart car. Now, my blue smart car, I'm not sure if anybody knows that. So this is really just the outside and honestly there's nothing really that exciting out here except where we live because we're on the water. So we have a boat, but it's in storage right now cuz it's so cold outside. And I know I say cold and someone's gonna judge me because I have flip flops on.
I know this, this is our kitchen, our outdoor kitchen. So this actually will, we have a fridge out here and we keep like our drinks and stuff in. We have our little, um, setup for the grill. But I told you this is all super dirty because we haven't been here to hang out or even fix all this, but we had to actually get a new grill because it was disgusting. But anyways, um, I wanted to show you I guess this side of the RV and then I'll show you the other side of the rv. So I have to take us inside of this setup. Okay? So I told you that last year we had a hot tub and it was on the other side of the motor home. If you haven't seen that, I'll put a link to that video below. But we actually moved the hot tub in here, in the garage.
So this is our hot tub, um, that we can hang out in and we can look out at the lake and everything. But we've had so many electrical issues here at the RV park that had nothing to do with us. It was actually like the RV park itself. And we literally like got threatened to get kicked out over this. But um, we had some electrical issues here and so we haven't been able to actually run this. So it's full of water, but we haven't been able to use it this year. Um, but I just kind of filter it right now to make sure that it keeps moving. But this is the hot tub set up. Um, and this is our intex hot tub. So this is actually a blow up hot tub. Okay? So this is our blow up hot tub and I had this all set up so that we could like sit out here and hang out and it was like really cute and we had our table.
Um, this is our electrical lawn mower. So since we fenced in our yard, which I'll show you again in just a second, um, we have to like cut our grass <laugh>. So, um, there was a boat in here but we moved it to storage because it's been below 32 degrees here. Um, so this stuff is just thrown in here because we literally grabbed the boat one day when it was freezing last week and we ran to storage with it. Um, but we've had to keep like a heat lamp on it and some other stuff. So we have actually a golf cart that will be here next week I think. Um, so this is our garage. Oh, and I didn't say this. So last year we had a smaller garage and what happened was our garage, well we actually upgraded the garage to this one. So our other one was like a seven by 14 and this one is like a 20 feet, 20 foot garage maybe, I don't know. But this is a really big garage and um, it blew away in a storm. Okay? It wasn't good. So we have this new garage <laugh> and we had to strap it down. So we have these nice strap downs and have tethered this thing into the ground. Oh, we have an escapee, okay? So what we normally would do would be in this hot tub, which haven't got to do that this year. So we set all this up and got to use this like once. So let's see. This is what we'd normally be looking at.
I was trying to make sure my neighbors aren't watching it. I told you I was trying to be quiet cause I I don't want them to see me like filming them. Okay, so this is really the garage set up right here and our little walkway and we have two doors. Um, but let me show you. Um, I guess, yeah, we have our patio set up and then we have this new fence. So this is our fence now that we have and our little fenced in yard. And then if you come over to this side, you can see our other side. See we have Roland and Birdie back here, Roland and Birdie. And then we have like our little walkway. So you can see our little walkway down here. And then we put our little happy camper on. So this is the other side of our RV and we kind of lined it out like with our lights. And so again, I told you this in the last video, but you get power pole to power pole in the RV park. And so on this RV we have two sewer lines. So that was new and exciting. Um, and then
We've told you we had a lot of power issues. So we had to get, um, this massive power watchdog here. Um, so we have our water, oops, let me see our water, which normally feeds right there. And then again we have our two sewer line right here. So again, it's like power pole to the other power pole.
So
Like on that side, right there, right there. So again, we got the smarty right here and you can see our little setup. So this is our trailer setup here at the RV park. And then you come down, we have our little garage here, right here we have our little garage. And then we could go in this door. We don't normally go in this door. Oops, this door. I told you I was trying to be like super quiet while I'm giving this tour. Come on. So we're gonna tell the dogs get inside. So I'm gonna show you the inside. Now, come on bird roll. Come on. Okay, come
On.
So see when I go outside, this is my view, right here?
Okay, hopefully my neighbors were not watching. I know that one guy was over there. So, um, okay, again, this is our unofficial tour and it is, is looking probably dirty up in here. Um, okay, so first thing when you come in here, um, we have, this is like our junk room slash we're having to use this as the bathroom right now because the other toilet is leaking, but this room doesn't have air condition in it. It just has this fan up here. So this is just like the mudroom and we come in here and we shut that off. So that, um, that's like keeps all the heat and cool out if you understand what a mudroom is. So anyways, what I wanted to show you was the RV set up in here for um, what this looks like. So this is really crowded and really crazy right now, I'm not gonna lie.
So you come in the this door, right? You right, you come in this door back here is like my office. And then in here you can see this is the, um, living room slash kitchen area. So, and then the bedroom is back here. So I guess it'd be easier if we go maybe from my office area and show you what it looks like. Okay, so this is like where I'm normally recording and I'm like, Hey guys. And so you can usually only see this side of me and um, I'll hang out over here and if I wanna sleep back here, um, there's actually, this is uh, either a full or a queen bed and this folds down right here. And then this actually folds up and down too. So, um, this little bed will drop down, but it's gonna be too hard for me to do on the, um, on the phone with you here.
Okay? So again, unofficial tour, I'm gonna give you a more official tour. So this I come, I hang out back here. We call this Brandi's office. Um, all the windows I will tell you have all this film on it because I was keeping the heat and cool outta here. Um, or the heat in and the cold, cold air in. Um, and the heat out in the summer, this is like reflective. So all the windows look like that because that's what's on the windows. So again, we are putting this together, but it is taking a while and we haven't been here because um, some of this stuff, um, needs to go to the van and whatnot. So this stuff right here is, um, things that needed to be put up. So these are um, I guess you would call it blinds. I don't know if they're blinds or covers, but we gotta put all these on.
This was all thrown up here because we have a new puppy. He's not a puppy, but we have rescued him and he's been using the bathroom on the carpet and stuff. So all this has been washed and I've gotta put it all back down. And then my boyfriend got mad at this nice hanging thing that I had all put away and threw it up here. So this is like the junk room right now. And the reason I say that is because someone said something about like, oh my gosh, I thought that her videos would have like all of her stuff in it and would be like so cute and decorated and I was thinking like, yes, I did decorate and put things in here. Okay, I have decorations throughout here, but um, I haven't had a chance to really do that. So I just wanted to show you.
This is like the office. This is another set of bunks. So you can have one person here, one person here, one person here, and one person here. Um, or actually two if you wanted to fold this down in this um, area. So this is like my office area where I hang out and I can come back here and shut the door and have my own space. And I will tell you, um, the, this Puma Palomino, they actually make them with like a queen bed back here that I'll show you. Looks like the other side in the bedroom. And they also have it where they have like a couch set up and I've seen some that have like nothing back there. So you could customize that to be what you want. You just have to consider if you have the outdoor kitchen or not, because that takes up space.
The um, outdoor kitchen is actually underneath here, you know, so there's storage and all that fun stuff in here. But this um, is like my little office area. And then, um, we have these cabinets where you can put stuff in. This is really just, um, we have lights. My boyfriend did all this fun stuff in here and put these little lights and he did really cute stuff. But we have put things in here, which you probably can't tell, but like these mirrors, we glued all these mirrors on. Um, and we've put these lamps in here. Um, some of this stuff was already here, but we changed out the little vents in here. So, okay, this little slide out area and there's three slide outs in here. This whole wall slides out and then that bunk room slides out and the bedroom slides out again. We've only moved this RV one time and it was to move it here.
And then the girl before us that had it had only bought the RV brand new and moved it to the RV park she was at. So this RV's only moved twice this entire life. Um, okay, so this is another little area and this folds down and makes a bed that I've never done before, but I'm pretty sure that's what it does. We've added some little things like this little, um, I don't know what you would call this, ottoman. And yeah, we have like this little camp blanket and a lot of this stuff came from the other rv. Um, so this is like the little living room area. Um, and if you want to eat and hang out, and actually this folds down too and makes a bed, but no one's ever gonna do that in here. Okay? And then we do have more storage like underneath here.
And then I actually got a little crafty idea and I put the cat's litter box down there. So we have Birdie and Roland here, but then we also have Milo and then the cat Johnny, um, that are with my boyfriend right now. Um, because I let him kind of claim those two. <laugh>, most of his, um, the cat is like a whole nother story, okay? I'm not judging cats, but I love my dogs. Um, okay, so this is the kitchen area and we have the um, fridge, microwave. We have an oven in here. This is gas, so we have to use gas if we wanna cook in here. Microwaves, electric, the fridge can be electric or gas, but uh, and it'll run off the battery too if we lose power, but, um, we haven't had, we actually that has happened, actually that has happened. So what else?
Um, cabinets. More cabinets in here. Cabinets down here. We keep the dog stuff here. I we have a toaster oven because we haven't been cooking with the other oven it and we don't, you really use the microwave. And then I have two coffee pods, so don't judge me on that. My sparkling water machine over there. I love sparkling water. If you don't know that, that's my favorite. Um, and then there's some more storage here and and whatnot. So it's been super cold. And when it's cold I will tell you we have to have more stuff. That's some stuff that's supposed to be going to my mom's house. So we usually have cute little carpets down here. But again, um, all this stuff had to be pulled up because Roland decided he wanted to go to the bathroom in the trailer and thank gosh we have ruggables that we can wash.
But um, this is another door. We never really come in and out this door because we keep the trash can here and um, we have our internet and all that fun stuff. Tv. Um, this was already in this. I did not put that up guys. <laugh>, I dunno if the girl put that up, they had it before me or if it came like that. This TV is massive. I would not normally put this on here. We actually have another TV that's supposed to go up there. We just haven't switched it out. The other thing that's in here is, um, this fireplace. So this is really cool. I love this fireplace. It actually heats or you can just keep it for making the house look really pretty. Um, what else? Oh, I don't, I think I told you this. So we have, I told you water leaks up in here.
So we've had to use the other toilet, but we came to the realization one day when you flush this toilet, there was like poopy water leaking places. So this place, I still feel like this place is so dirty. You have no idea. The girl that had this before us, I swear she never cleaned, okay? I don't think she ever cleaned, ever, like in her life. I would hate to see her house. <laugh>. This RV was just like an extra place for her or her family I guess. I don't know. But this still has junk in it. This is from the lady before us. That's really sad. But, um, we did a whole cleaning on the outside and we haven't really got to do a cleaning on the inside as much because I've already cleaned it once. And you know how like when you clean something, you gotta keep cleaning it?
I feel like it's gonna take a year to get this thing cleaned. Then we have this water leak here and if we put, if we plug water up right now, it actually leaks in the bedroom and so we can't figure out where the water's leaking from. So we can't even take showers in here. We've been using water to flush the toilet on the other side and um, I feel like I need to put my phone on airplane mode so nobody will bother us on this video. Okay, um, what's next? This is the bathroom and it is super, um, I don't wanna say dirty because I don't know if you can even tell it's dirty, but we have a little cubby in there. This is the shower area. This is actually a pretty big shower. We did change out this shower head. Um, and then the shower, actually this door was hanging off for the longest time.
It has a little skylight, but again, I've put all this stuff in, all the reflectix in here. Um, so it's, you can't see out. Okay, my boyfriend calls it Fort Knox and he's like, oh my gosh, we're not allowed to see out, but don't worry, we're gonna fix that with our new RV blinds that we have. Okay? Um, this is leaking down here, just so you know. Okay, this is leaking. I don't know why this shower is leaking around this base, but for some reason it's leaking. And I found that, thank gosh, I found that. So if you wonder why all these things look kind of distraught in here, it's because there's holes that are open because I've been doing my own little project, but there's a little bathroom in here. Um, or not little, this is actually, this is the master bath, okay? This is the master bath in here.
And um, we even put, you know, some of this hanging stuff and said, we didn't even take the paper off this yet. That's how bad it is in here. Um, and then you come back here into the other bedroom. So just so you can kind of see the, um, other side. That's where my office is that I closed the door to, but the mirror makes it look bigger. And I put a mirror on the back of this door too to make it look bigger too. So I did put some cute stuff up here for the person that said that my RV was not looking cute. Okay, <laugh>. And these blankets are like camper blankets, uhhuh <affirmative>. Every day is an adventure. I mean, those are decorations. I don't know what y'all call decorations. And actually this right here, I got this at lowe's, but I love this ladder.
Um, it's actually for throwing, uh, clothes on just to hang, so like dresses and towels. So that's in here. But this is the master bedroom. So this is a queen bed. Um, you wanna hear a hilarious story. The girl that sold this to us switched out the bed and gave us a bed. This is a 2021. The bed she gave us was like a 2007 or 2013. It was disgusting mattress and it, it wasn't, I think it was like a full, um, it was not good. It didn't fit. So we got a queen mattress. We actually picked up this mattress, um, at Lowe's for $500 bucks. And the next thing is, um, we, and we picked up this, uh, this lovely comforter. So this is a queen bed, little petrified wood back there from the petrified forest. We brought that from our van life, but I will have to show you the van tour next.
Um, and the condo. So when we're not here, what it looks like, but okay, we even picked up this little thing from Lowe's, this little, um, what should we call it? <laugh>. I don't even know what to call these things. I guess like a little stool for the end of the bed. So we actually have a lot of room in here. Now if we closed this and we had to move the trailer, you'd have to move all that stuff. But this is the bedroom and we have a closet area. And so the water leak is coming from somewhere inside this closet. And I can't, it's actually coming from down in here somewhere in this floor. But these are just extra towels and things that we leave in here. But this is actually a really nice space for what you can put in here. Okay? Again, unofficial tour. I have to give you a way better tour, but this right here is another closet and I told you we had water leaks. Um, but this is where you can put the washer and dryer if we had a washer and dryer. Um, or you can use it just to hang stuff in or put cleaning stuff, um, or whatnot. So it's just another closet.
So that's what we got. But there's also this little, um, area in here, but there's tools and all kinds of stuff in here because we had a water leak. And um, then the water, like I said, if the water, if we plug up the water starts coming outta here and the only way to get to this is to crawl underneath here from the outside and it's not good. So on that note, if we haven't officially met, again, I'm blogging Brandi, please, please, please, please, please subscribe to this channel and turn on notification. So you're notified each and every time I publish a new video. But this is my unofficial tour of my RV and my stationary RV living tour, full-time stationary RV living tour. So this rv, we never move, we never take anywhere. Um, if we wanna move in, I'm gonna have to like, make phone calls and get someone to come move it or have it towed, um, outta here.
But what, that's why we have the van. So if you haven't seen the van tour yet, I will be giving that next, um, coming up in an upcoming video. So again, that's why I said please, please, please subscribe and if you, you like this video, hit the like button below and comment below this video, this unofficial tour video to let me know what you wanna see in the official tour video. Um, and like I can do the drone footage and show you like the new golf cart and all the fun stuff when we do that. But it's cold outside, it's not fun. I tried to do this on the low, low, uh, and not be sharing all the neighbors information. Um, or let them see me recording cuz I always think it's weird if they see me recording. But um, yeah, this was really kind of, I'm like, oh my God, I can't believe that I just showed them my disgusting house right now, <laugh>.
But this is it. So I hope you enjoyed it. I love you. Please subscribe and drop a comment below. Let me know what you thought about this tour, hit the like button below if you like this tour. And if you haven't seen my other tours, check the description below this video to see those and check out my story, enjoy my fan club and all of that fun stuff. So links below this video for all the stuff that I mentioned and I will see you in an upcoming video with all the good stuff about the rest of RV life. So if you're wondering how to get set up and what it could be like living, this could be your situation. So I love you. I'll see you in the next video. Bye.
---
After this video if you're still wondering about STATIONARY RV living…is it worth it? (pros + cons) be sure to check out more videos I made below via RVersity!
MY RELATED STATIONARY RV LIVING VIDEOS:
---
🔐 P.S. If you haven't already be sure to [JOIN MY FREE SECRET FAN CLUB] Interact with me behind the scenes on a personal level. Plus, you'll be the first to know about any new blogs, videos, and updates! >> GET ACCESS HERE <<