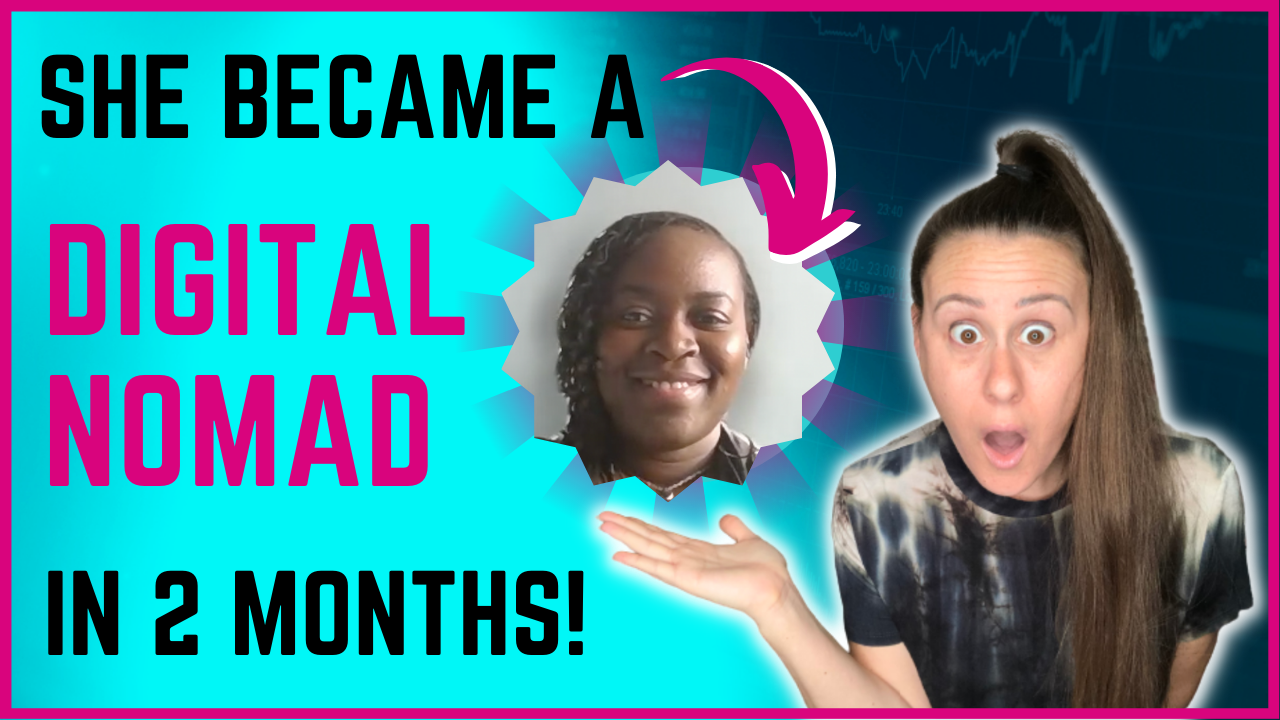 From TERRIFIED Solo FEMALE To FEARLESS Financial Savvy DIGITAL NOMAD & RV ENTREPRENEUR in 2 months!
This is How One Solo Female went from feeling TERRIFIED to being CONFIDENT as a Digital Nomad, Blogger / Writer & Financial Savvy Entrepreneur STARTING A BLOG & ONLINE BUSINESS FAST in Less than 2 Months! Plus, she's on her way To Stationary RV Living very soon!
WATCH, Learn & Let Miranda's AMAZING Success Story Inspire you!
Ready To Get Results Like Miranda?
If you feel like Miranda: want to change your life, have envisioned your life differently, want to be self-sufficient, want to get out of the rat race (get rid of the 9-5 aka out of the system) – If you're really hungry, ready for a "Lifestyle Change" and ready to do the work, take accountability, be part of a community, hear others opinions, grow and help other people with people who want to do what you want to do. Than let's Chat about working together so you can be my next success story!
When I met Miranda she had gotten complacent, feeling kind of hopeless with her finances, and living situation! Plus, wanted her own place (own home)… BUT she was STRUGGLING, Felt STUCK, and TERRIFIED to do anything! A lot of things she did she always Started and Stopped!
She was Tired of the simple 9–5!  It wasn't the life she wanted to live but it was all that she knew! She just wanted to live in her purpose, she wanted something new! She wanted to "be me and be free" as she calls it BUT she just didn't know how!
She wanted to Stay at home, work from home and be a homemaker! She DID NOT want to Travel.
Miranda didn't understand why downsizing, organizing and becoming a minimalist was important! She thought there was NO Point because she didn't know where her life was going! Her life felt "Stagnant" like nothing was going to happen!
Miranda wanted a change in her career and to sell some of her products (soap & Shea butter). But Miranda realized "It's Not just about helping you RV, budget, Start My Brand, etc… It's a Lifestyle Change!"
---
BEFORE:
❌ Miranda used to Sit around for 2-3 days STRUGGLING to get something done!
❌ Was NOT sure which RV or if the RV Lifestyle was right for her?
❌ Last year Miranda was in a place of hopelessness and was not focused on her finances!
🤦‍♀️ She thought she knew but was SURPRISED to see where her finances are ACTUALLY going! She realized her finances were NOT as focused as they should have been!
---
SO WE MADE A PLAN:
✅ NOW she has: Set Goals & Deadlines! Plus, Created a Spreadsheet to track her Income & Expenses! Miranda has learned more about her Finances and how to manage them better.
✅ Now, Miranda has figured out "Perfection is the Enemy of Done" and how to stop overthinking as it blocks her from reaching her full potential!
✅ Now sees Downsizing, Decluttering, becoming a minimalist takes inner work! Says "it's been fulfilling", makes her feel more hopeful, like a weight off!
✅ Now she feels empowered and realizes she can live stationary in her RV and still have the lifestyle she wants without Traveling all the time!
✅ Sees where doors were being opened that she did not see before!
✅ Has taken accountability for the things she needed to work on, or change (about herself) and realizes it's possible and she can do it!
---
A few of the Miranda's Milestones:
🚀 She discovered focusing on her finances does NOT mean she Needed to WORK more! She learned TIME is MONEY & Your TIME is VALUABLE!
🚀 Learned how to Sell things "Digitally Online" — a Digital Garage Sale!
🚀 Downsized in ONE day (in 6 hours or less!) after PROCRASTINATING about doing it for about 2 Years!
🚀 Discovered she is a Writer (deep inside)!
🚀 Started a Blog, Created a Logo, Learn about Marketing and how to format her writing (which comes natural) but for others to be able to read and understand it better. She has also gotten more Creative!
🚀 Has been able to heal (or continue better on her healing journey)!
🚀 Is learning how to become her own. Creating Boundaries, Developing a backbone (in certain areas of her life) and Loving yourself! Knowing your worth, What you have to offer! And Now is able to express herself better!
🚀 Has been able to take the distractions away, dig deeper, and feel confident in being vulnerable!
🚀 Feels more confident as a digital creator, nomad, worker! Knowing it could be her life, that she does NOT have to go to a job all the time and instead she can use her skills to do it!
---
BEFORE Miranda was TERRIFIED but NOW She Has more confidence, believes in herself and realizes her skills (or gifts as she likes to call them) are present! And, she can use them to benefit society, to touch people's lives! It "opened her eyes" and SOLIDIFIED the things she already knew making her more hopeful. She describes it as a "Therapy Session".
As Miranda said "This is a Lifestyle Change not taking a course, getting a piece of paper, the results from that course, getting a website done, or getting the RV that you want! It's a journey, it's growth, it's looking into yourself"
Miranda wanted PEACE, to just BE HERSELF and DID NOT want to PUT THE MASK ON to continue moving through society. She wanted MORE out of her life, to explore, create and express herself. She just wanted to reach her full potential and NOT feel LOCKED UP or CONFINED. So she book a call and decided to work with me — now you can see where she's at!
---
READY to GET RESULTS like Miranda?
If you're like Miranda, You want to be a digital nomad (ready or not ready for RV Life yet) and your situation has not changed! You're not pursuing your goals and need someone to help motivate, mentor, coach you and hold your hand then BOOK A CALL To Chat about Working Together so I can help REDIRECT you on the right path! 😉
---
ABOUT ME:
If we haven't officially met, Hi I'm Blogging Brandi an EX-Corp Kool-Aid Drinker, born to be Creator, Digital Nomad & Female Entrepreneur! (aka Female Digital Nomad Entrepreneur or Nomadic Entrepreneur) Because Sometimes I'm RV Living and Sometimes I'm NOT!
Now, I help other creators who are tired of feeling stuck, unaccomplished, and even maybe an outcast from the rest of the world's idea of "status quo" become confident in reaching their financial goals and gaining their independence  — by following in my footsteps learning how to communicate, use their story to build their personal brand, and share the skills they have buried inside of them  to start their own online business making money online as a digital nomad while RV Living — ya know, instead of a working a "normal 9–5 or shift job" 😉
🎓 [READY TO APPLY & WORK WITH ME]
Apply & Schedule a FREE consultation to see if we're a good fit to work together (Spots limited) >> BOOK A CALL HERE <<
🗣 MY CLIENT SUCCESS STORIES:
https://www.youtube.com/playlist?list=PLWzgbBKwktuxZRES1LTEReQ55KqpX92QQ
---
WATCH [MY STORY]
How I decided to Become A Solo Female Digital Nomad (NOT always RV Living) Entrepreneur!
P.S. Miranda is a homebody who loves nature, simple living, DIY projects and Creating! She is a caregiver by day (and now blogger). Miranda is a natural born writer and blogger that's how she expresses herself best!
Be sure to Follow Miranda @RaydiantLady and learn more about her via RaydiantLady.com